Jocelyn Aubrun
"….Jocelyn Aubrun offered a magic line in the second of three songs…"
New York Classical Review (Bruce Hodges, on a concert at Carnegie Hall )
"…with an amazing flute solo from Jocelyn Aubrun…"
Leonard Slatkin
French musician Jocelyn Aubrun has been Principal flute of the Orchestre National de Lyon (O.N.L) since June 2006, directed and conducted by Nikolaj Szeps-Znaider .
Within this Orchestra, he has recorded about fifteen cds (including Ravel's Daphnis et Chloé and Boléro, Debussy's Prélude à l'après-midi d'un faune (Naxos), Strauss' Salomé dance of the Seven Veils (Altus)…) and he has performed with conductors such as Stanislaw Skrowaczewski, Yannick Nézet-Seguin, Jukka-Pekka Saraste, Neville Marriner, Vladimir Fedosejev, Manfred Honeck, Osmo Vänska, Alan Gilbert.
Furthermore, he appears as a guest musician with orchestras such as Philharmonia Orchestra (London), l'Orchestre de chambre de Lausanne, the Vienna Opera, l'Orchestre du Gürzenich de Cologne, l'Orchestre du Capitole de Toulouse, l'Orchestre National de Bordeaux, l'Orchestre  Philharmonique de Radio France, l'Orchestre National de France, the Nagaokakyo Chamber Ensemble (Japan).
Jocelyn won awards at numerous international competitions, (such as Jean-Pierre Rampal in Paris, Krakov and Arles competitions) and is also a laureate of the Natexis Foundation (Fondation Banques Populaires).
As a chamber musician, he shares the stage with Alasdair Beaston, Guillaume Sutre, Jean-Yves Thibaudet, Vincent Warnier, Kyung Hee Kim, Lise Berthaud, Nora Gubisch, Ton Koopman, Emmanuel Rossfelder, Lorenzo Gatto, Vardan Mamikomian…in numerous festivals.
As a soloist he has been playing with the Orchestre National d'Ile de France (Reineke), the Krakow Orchestra (Penderecki), the Orchestre de Cannes (Mozart), and the Orchestre National de Lyon (Bach, Mozart), among others.
Jocelyn has released two chamber music albums alongside pianist Aline Piboule for the Lyrinx and Artalinna record labels, both highly acclaimed by the press (Classica, MusicVoice, Classical Source).
He is planning to release a new chamber music album (Philippe Gaubert) with pianist Ursula Alvarez.
His performances have been broadcasted on radios such as France Musique, France Inter, RTS and RCF.
He is frequently invited to give masterclasses (Paris, Genève, Lyon, Nice, Los Angeles, Istanbul…)
He studied at the Conservatoire de Nice (CNR) where he graduated in 2000 with First Prize in piano, flute, music theory and chamber music, and at the Conservatoire National Supérieur de Musique et de Danse de Lyon (class of P. Bernold) where he was unanimously awarded First Prize in flute with honorable mention in 2004 (Master's degree). He has also worked during his scholarship with Aurèle Nicolet in Freiburg which influenced him greatly.
He also awarded a Master's degree in baroque flute (class of Serge Saitta) in Haute Ecole de Musique de Genève.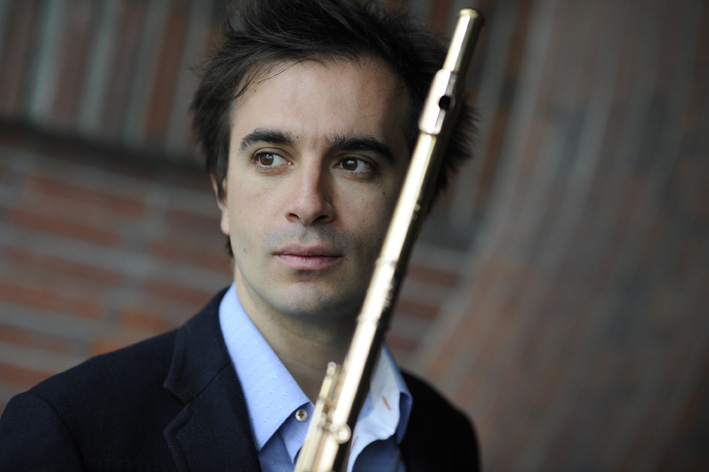 To provide the best experiences, we use technologies such as cookies to store and/or access device information. Consenting to these technologies will allow us to process data such as browsing behavior or unique IDs on this site. Failure to consent or withdrawing consent may adversely affect certain features and functions.
Functional

Always active

The storage or technical access is strictly necessary for the purpose of legitimate interest to allow the use of a specific service explicitly requested by the subscriber or user, or for the sole purpose of carrying out the transmission of communication over an electronic communications network.
Preferences

Storage or technical access is necessary for the purpose of legitimate interest to store preferences that are not requested by the subscriber or user.
Statistics

Storage or technical access that is used exclusively for statistical purposes.

Storage or technical access that is used exclusively for anonymous statistical purposes. Absent a subpoena, voluntary compliance from your internet service provider, or additional third party records, information stored or retrieved for this sole purpose cannot generally not be used to identify you.
Marketing

The storage or technical access is necessary to create user profiles in order to send advertisements, or to follow the user on a website or on several websites with similar marketing purposes.